Shyamnagar Card Club
The Club
One of the oldest Contract Bridge Club in West Bengal & certainly the oldest in the dist. of 24 pgs(N).The club room was given to use for as long as the club exists by late Jitendra Nath (Badam) Sarkar;a very enthusiastic patron of this game at his time.The tables,chairs & electricity came free.The good gesture was carried on by his granddaughter Mrs.Anuradha Mitra & her husband Mr.Kishalay Mitra.
Club Members
Siddheswar Bose:-The lifeforce behind the club.
Late D.N.Mukherjee:-The best & the most intutive natural player the club has ever produced.He had a very colourful life. A natural sportsman-which reflected on his bridge abilities.
Asim Ghose:-The less said,the better.
Ghatakbabu(Ananda Gopal Banerjee):-The gentleman perfect.
Dr.Bimal Mukherjee:-The President forever & the initiator of Contract Bridge in Shyamnagar.
D.P.Bhattacharya(Debuda):-An excellent player with a lot of pre conceived misnotions.(Typical of Bhatpara Brahmins-Paschatya Vaidiks)
& the rest:-well,they are, actually, the rest. Nothing Mentionable. Perhaps the Cobra Protegee Ranjan Banerjee deserves a word or two- but that may wait till he earns his maiden masterpoint.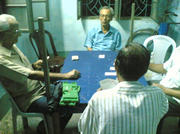 Yuger Pratik Club
The need for another practicing place was felt when club members increased in numbers & the junior members started to realise the importance of smoking as an aid to better(???) bidding & dirtier floor.
Satyabroto mukherjee( Buro-da) & Ranjit Pal (Tozu-da) was accomodating enough to offer Yuger Pratik Club premises for our practice.Sincere thanks to them.
This duo will come back again in the page- Bridge in the Shantipurlocal/Kalyani super.
The Club
This page will remain incomplet if the names of Late Parameswar Banerjee & Late Ajit Ghose are not mentioned.They helped in starting the table years after years preciously at 19.30 hrs. till the late comers(experts) came & replaced them.